by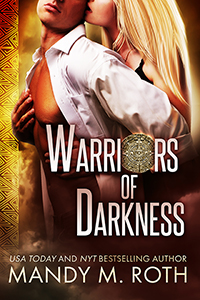 Warriors of the Darkness
Standalone Full-sized Novel
Deryn Murray has her work cut out for her. Not only is she determined to prevent Alejandro Vargas's death–one she's seen over and over in her dreams–but she must keep anyone from learning her true identity–that of a slayer, and sworn enemy of all the supernaturals. Protecting the Colonel of the alternate realm military base threatens not only her life but her very heart. Despite his refusal to cooperate, Alejandro has broken through her emotional barriers and holds the power to hurt her worse than anyone ever has.
Colonel Alejandro Vargas is more than frustrated when his job gets a whole lot tougher due to the arrival of two civilian doctors, one of whom is human. Tall, sexy and blonde, Dr. Deryn Murray gets under his skin in more ways than one. If she's not humming nursery rhymes and talking to animals, she's taking on armed spirit tomb guards while insisting she's saving his life.
But in place where time and space have no boundaries, ancient enemies would like nothing more than to eradicate them both, just when they've found each other.