To those of you who review books (or anything) on Amazon.com please take a moment to check your sensitivity setting. It's up to you if you want it ON or OFF, but if you want it OFF here are the steps to take.
HOW TO CHECK YOUR SENSITIVITY FILTER ON AMAZON
Go to Amazon.com and go to your Account (top of page–right) Click YOUR ACCOUNT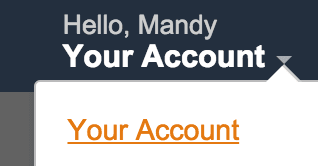 Now scroll to the bottom of the page. You'll see Personalization there. Click on Public Profile.

Click on the drop menu and select  Edit Privacy Settings

Now make sure to UNCHECK (no check mark) Hide Sensitive Activity and hit SAVE