Zodiac Alpha Gatekeepers
Get ready for a love story like no other with the unstoppable alpha heroes of the Zodiac Alpha Gatekeepers series.
The Zodiac Alpha Gatekeepers are a series of alpha heroes who are sworn to protect the portals to Earth and, in turn, mankind. Each of them is empowered by a unique element and can use their powers to fight threats from other realms. They are brave warriors who will never give up, even in the face of near-certain defeat. Together, they form an unstoppable force that stands guard over the threshold between Earth and infinite unknowns. When they discover that their destined mates are among the humans they've been sent to guard, all bets are off. Follow the steamy love stories of these magical, powerful men as they navigate the complexities of falling for their mortal mates in this must-read romance series.
Series: Zodiac Gatekeepers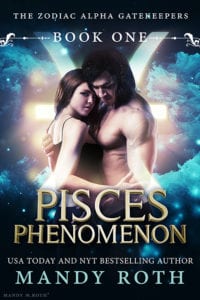 Pisces Phenomenon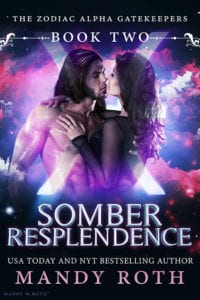 Somber Resplendence
"
---
★★★★★ 5 Stars--"As always Mandy does not disappoint..This is a hot story filled with magic, men and a damsel or two in distress."
---
"
---
★★★★★ 5 Stars--"This book has magic immortals, romance, mystery and so much more. It's so well written and I had a blast reading it."
---
"
---
★★★★★ 5 Stars--"Ahhh! Loved it! Far more unpredictable than most romance books! Love how Mandy Roth was able to create a character that was both weak and strong at the same time."
---