10 of the Best Vampire Romance Books for Adults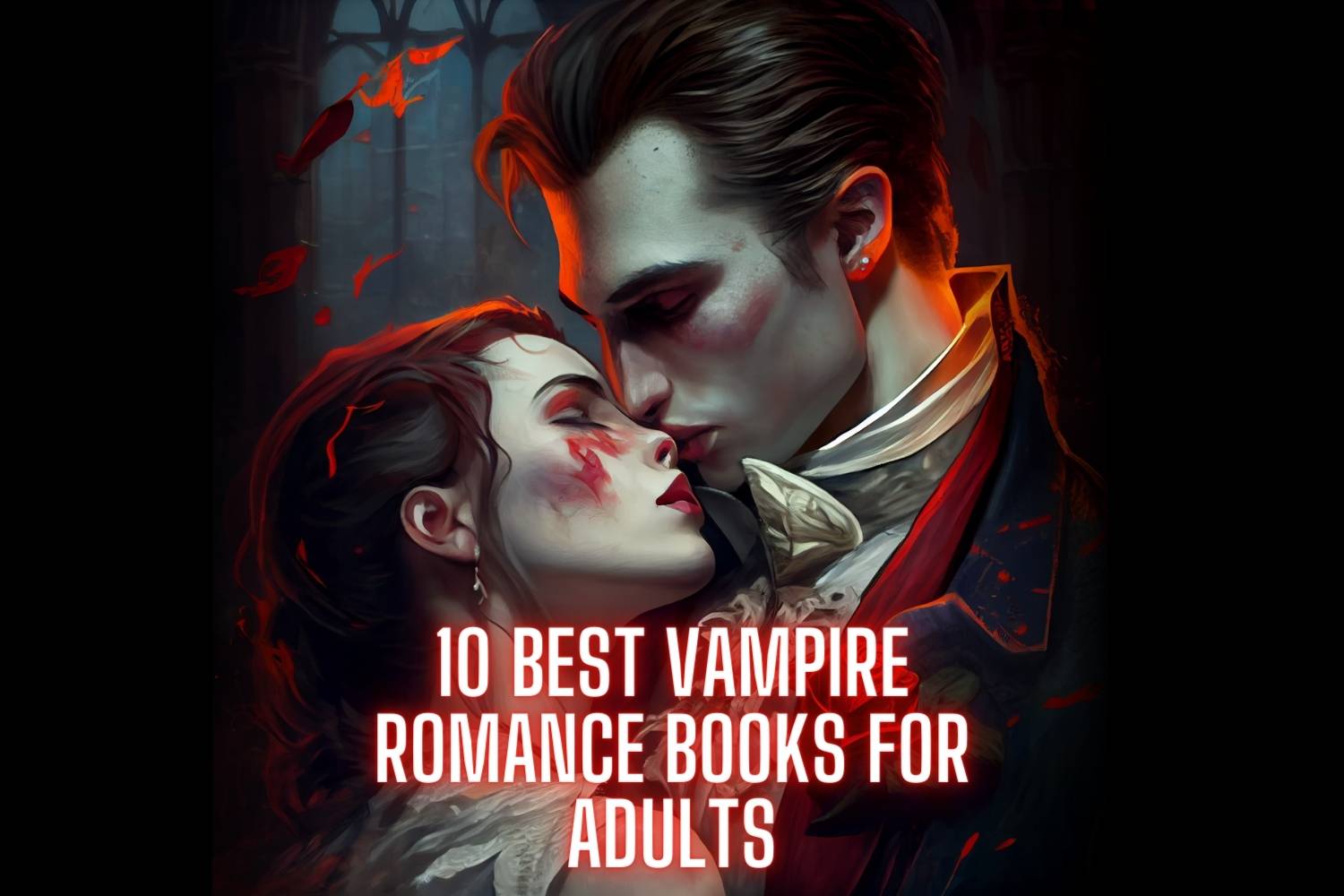 Thirsty for a good read? These vampire romance books will quench your thirst!
These vampire romance novels offer a unique and exciting take on the paranormal romance genre, with complex characters, forbidden love, and a decent amount of angst. I don't know about anyone else, but I'm a big fan of the self-loathing, tortured-soul vampire hero. I also like a kick-ass woman who can set him in his place. These books are dark and seductive and something that are sure to have you reading late into the night. If you're ready to sink your teeth into a binge-worthly book, give one of these vampire romance novels a try. These are in no particular order.
Guilty Pleasures: Anita Blake is small, dark, and dangerous. Her turf is the city of St. Louis. Her job: re-animating the dead and killing the undead who take things too far. But when the city's most powerful vampire asks her to solve a series of vicious slayings, Anita must confront her greatest fear—her undeniable attraction to master vampire Jean-Claude, one of the creatures she is sworn to destroy
Night Pleasures: He is solitude. He is darkness. He is the ruler of the night. Yet Kyrian of Thrace has just woken up handcuffed to his worst nightmare: An accountant. Worse, she's being hunted by one of the most lethal vampires out there. And if Amanda Devereaux goes down, then he does too. But it's not just their lives that are hanging in the balance. Kyrian and Amanda are all that stands between humanity and oblivion. Let's hope they win.
A Discovery of Witches: In this tale of passion and obsession, Diana Bishop, a young scholar and a descendant of witches, discovers a long-lost and enchanted alchemical manuscript, Ashmole 782, deep in Oxford's Bodleian Library. Its reappearance summons a fantastical underworld, which she navigates with her leading man, vampire geneticist Matthew Clairmont.
Dark Prince: Carpathians are an immortal race of beings with animal instincts. Every Carpathian male is drawn to his life mate: a Carpathian or human female able to provide the light to his darkness. Without her, the beast within slowly consumes the man until turning vampire is the only option.
Some Girls Bite: Sure, the life of a graduate student wasn't exactly glamorous, but it was Merit's. She was doing fine until a rogue vampire attacked her. But he only got a sip before he was scared away by another bloodsucker and this one decided the best way to save her life was to make her the walking undead.
Bound to Midnight: Immortal vampire operative Philandros "Landros" Mires has spent years withholding the truth from all around him. He's no stranger to lies and told himself over and over again that the ends justified the means. As an enemy from his past resurfaces, bringing with them a new threat, Landros knows everything he sacrificed to protect is in danger.
Kiss of Mightnight: He watches her from across the crowded dance club, a sensual black-haired stranger who stirs Gabrielle Maxwell's deepest fantasies. But nothing about this night–or this man–is what it seems. For when Gabrielle witnesses a murder outside the club, reality shifts into something dark and deadly. In that shattering instant she is thrust into a realm she never knew existed–a realm where vampires stalk the shadows and a blood war is set to ignite.
Halfway to the Grave: Half-vampire Catherine Crawfield is going after the undead with a vengeance, hoping that one of these deadbeats is her father—the one responsible for ruining her mother's life. Then she's captured by Bones, a vampire bounty hunter, and is forced into an unholy partnership.
Interview with the Vampire: Here are the confessions of a vampire. Hypnotic, shocking, and chillingly sensual, this is a novel of mesmerizing beauty and astonishing force—a story of danger and flight, of love and loss, of suspense and resolution, and of the extraordinary power of the senses. It is a novel only Anne Rice could write.
Dead Until Dark: Sookie Stackhouse is just a small-time cocktail waitress in small-town Bon Temps, Louisiana. She's quiet, doesn't get out much, and tends to mind her own business—except when it comes to her "disability." Sookie can read minds. And that doesn't make her too dateable. Then along comes Bill Compton. He's tall, dark, handsome—and Sookie can't hear a word he's thinking. He's exactly the type of guy she's been waiting for all her life.
A Hunger Like No Other: After enduring years of torture from the vampire horde, Lachlain MacRieve, leader of the Lykae Clan, is enraged to find the predestined mate he's waited millennia for is a vampire. Or partly one. This Emmaline is a small, ethereal half Valkyrie/half vampire, who somehow begins to soothe the fury burning within him.
Dark Lover: The only purebred vampire left on the planet and the leader of the Black Dagger Brotherhood, Wrath has a score to settle with the slayers who killed his parents centuries ago. But when his most trusted fighter is killed—orphaning a half-breed daughter unaware of her heritage or her fate—Wrath must put down his dagger and usher the beautiful female into another world.
Did your favorite not make the cut? Stick around. We'll be putting together more lists soon! In the meantime, check more favs below!
10 Popular Paranormal Vampire Romance kindle ebooks!
1.
Crave
Amazon Kindle Edition
Wolff, Tracy (Author)
English (Publication Language)
595 Pages - 04/07/2020 (Publication Date) - Entangled: Teen (Publisher)
2.
3.
Vampire Academy
Amazon Kindle Edition
Mead, Richelle (Author)
English (Publication Language)
354 Pages - 08/16/2007 (Publication Date) - Razorbill (Publisher)
4.
5.
6.
Twilight (The Twilight Saga Book 1)
Amazon Kindle Edition
Meyer, Stephenie (Author)
English (Publication Language)
513 Pages - 07/18/2007 (Publication Date) - Little, Brown Books for Young Readers (Publisher)
7.
8.
9.
10.
Post contains affiliate links.