by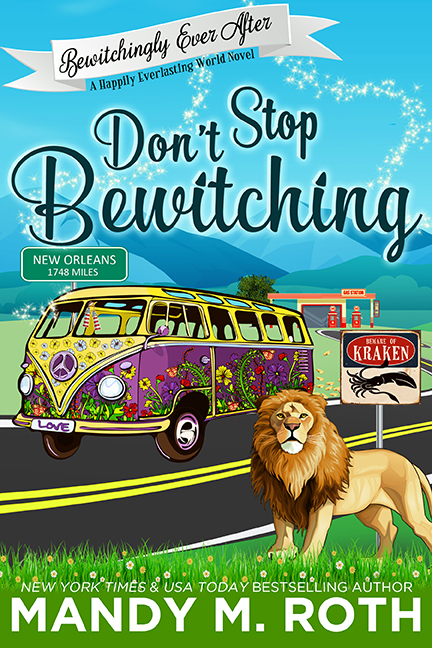 Don't Stop Bewitching
Bewitchingly Ever After Series, #1
Cat-shifter Curt Warrick doesn't want to take a road trip with five other guys but when his best friend leaves him no choice, he finds himself in a cramped van, that is anything but roadworthy, headed to Louisiana. It should come as no surprise when everything that could go wrong on the trip, does. That's okay though, Curt is used to the weird and wacky, after all, he was born and raised in Everlasting, Maine a town that is the epitome of strange. There is a bright side. The trip will give him a chance to expand his enterprise and possibly unload the mysterious gold coins that keep appearing at random along the way.
There is nothing Missi (Mississippi) Peugeot hates more than rich men who think they can throw money around to get what they want. Okay, that's a lie. She hates change. That's why she's happy to stay in her tiny hometown of Hedgewitch Cove. Protected by magic, the town has managed to keep its quaint, cozy feel—that is until a flashy, yet fetching, stranger shows up in a van that screams "flower power," announcing he's looking to buy property and begin developing the area.
Missi's grandmother always warned her that her words have consequences. She soon learns exactly what her Grandma meant. It was never her intention to curse Curt, but once the cat (pun intended) is out of the bag, there is no putting it back. Now it's her responsibility to keep Curt safe until she can convince him to leave town.
There is only one slight hiccup in her plan, every second she tries to keep mishap from befalling Curt, leaves her one step closer to wanting him to stay. With a spell of chaos hovering, a bag full of cursed coins, and a pull neither seem to be able to deny, these opposites find they attract more than just each other.
ASIN: B07CT2Y9WR