by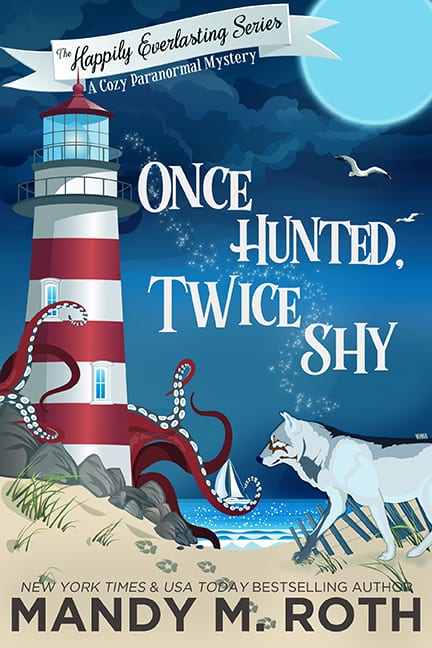 Once Hunted, Twice Shy
Happily Everlasting Series, #1
Wolf shifter Hugh Lupine simply wants to make it through the month and win the bet he has with his best friend. He's not looking to date anyone, or to solve a murder, but when a breath taking beauty runs him over (literally) he's left no choice but to take notice of the quirky, sassy newcomer. She'd be perfect if it wasn't for the fact she's the granddaughter of the local supernatural hunter. Even if he can set aside his feelings about her family, Penelope is his complete opposite in all ways.
Penelope Messing wanted to get away from the harsh reminder that her boyfriend of two years dumped her. Several pints of ice cream and one plane ticket to Maine later, she's ready to forget her troubles. At least for a bit. When she arrives in the sleepy little fishing town of Everlasting, for a surprise visit with her grandfather, she soon learns that outrunning one problem can lead to a whole mess of others. She finds herself the prime suspect in a double homicide. She doesn't even kill spiders, let alone people, but local law enforcement has their eyes on her.
The secrets of Everlasting come to light and Penelope has to not only accept that things that go bump in the night are real, but apparently, she's destined for a man who sprouts fur and has a bizarre obsession with fish sticks. Can they clear Penelope's name and set aside their differences to find true love?
*Books in the Happily Everlasting series can be read in ANY order!
ASIN: B07574TFCZ