Updated: 1/27/20
➩ Q: Will Striker get his own book?
♥☞ A: Yes! It is up for preorder now and listed on my coming soon page. It's titled Act of Freedom (now picture him yelling FREEDOM) 💋
➩ Q: Who is Striker's mate?
♥☞ A: You'll find out in Dec 2020
➩ Q: Is Edee Striker's mate?
♥☞ A: You'll find out in Dec 2020
➩ Q: Is Vic (from Strategic Vulnerability, Act of Command, and Wolf's Surrender) still alive and is he going to get his own story? ?
♥☞ A: I can't answer this without giving away too much. I can say, you have not seen the last of Vic.
➩ Q: Will Mac and Car get their own stories?
♥☞ A: Yes, they will. News may even come about their books soon.
➩ Q: How do you decide when an operative gets their story?
♥☞ A: I NEVER force it. It has to happen for me organically so that it naturally unfolds for my muse. There are several who have stories written but that can't release yet because other things need to happen within the overall series world before their story will "make sense" in the timeline. Also, I tend to write books out of order so often that book that is done and waiting for its turn needs tweaks to make it fit perfectly in its spot in the lineup.
I get my brain is a weird and scary place. I no longer try to control it. I just run with it…not against it LOL
➩ Q: Will Wheeler get his own story?
♥☞ A: Yes, he will. It's coming out Jan 30, 2020. Title is Out of the Dark.
➩ Q: Will Ace get his own story?
♥☞ A: Yes, he will.
➩ Q: What happened with Blue Butterfly? Will the character pop up in any more books?
♥☞ A: That character, like many, is developing over the course of the series world. More to come…
➩ Q: Will you ever write a story that shows us all the operatives who are mated with their families and updates (like a reunion book)?
♥☞ A: I have considered doing this for a holiday or something. Maybe a novella that isn't centered on any one operative, but sort of a check in with many. Right now, time is the factor.
➩ Q: Will you ever write stories for the children of the ops?
♥☞ A: I won't rule that out. 🙂
➩ Q: The books have been releasing for over fifteen years now. Does that mean over fifteen years has passed for the characters from book one to the most recent book?
♥☞ A: No. In the series world from book one until now it's been (quick guess without my charts in front of me) about 1.5 years from when it takes place until Healing the Wolf (the current book at the time of this Q & A being done.
➩ Q: Is there another Immortal Ops® Team? Team II?
♥☞ A: I can't give away too much but the short answer is yes.
➩ Q: Will we ever see anything more about Beowulf (Area of Influence)?
♥☞ A: Yes. You have not seen the last of him.
➩ Q: Will we ever get to read Stamatis's story (from Midnight Echoes)?
♥☞ A: Yes. His story was actually written at the same time as Immortal Ops® book one. Yes, all those years ago. I made the decision to set his daughter's book (Meena from Midnight Echoes) in front of his in releases because her book helped to introduce the spin-off of the Crimson Ops. But I will release Stamatis's story at some point. The majority of the story takes place over twenty years ago.
➩ Q: Are there any more characters from the world that are established that you'll write stories for?
♥☞ A: Yes. I've outlined one for Missy's (Critical Intelligence) father, General Jack Newman. Since he's obviously already mated when you meet him, the story would be how he came to that point. I have no timeline of when this might release or if it will release. If it sucks, I'll never put it out LOL.
There are more too.
➩ Q: Are you going to write the Paranormal Regulators stories?
♥☞ A: Yes. Three are already written, Stamatis, Whitney, and Erik (Shane has one coming too along with more men). But I've not yet launched their spin-off. Currently, there are 5 series that are within the overall series world–the Paranormal Regulators and the private security detail (you meet them in The Dragon Shifter's Duty) would take that to 7 series. Adding in Ops Team II would take that to 8. Not to mention there are two super-secret surprises that I've been working on for 15 years behind the scenes that would take it to 10 (okay one isn't a huge surprise, it's the gargoyles, but the other is hush-hush, for now).
I spend a lot of time on each book I write. I spend countless hours researching details to sprinkle in. And while I never want to beat the reader over the head and bore them to death with details, I want the world to feel as real and as fully developed as possible. I also like weaving fact with fiction so this takes research and time as well. This often means it takes me 3 months to write the full story (and let's be honest the ops books each seem to be getting longer and longer the more I write lol), get it edited, formatted and all that stuff that deals with how the sausage is made. Three months is already HALF the time the full-lengths were taking me years ago. I don't see any way to cut that in half again without sacrificing quality and more of my health. I won't put out a sub-standard book just to fill a slot or have a release. That is grossly unfair to my reader base who have come to trust me and who spend their hard earned dollars on my books.
➩ Q: There are OVER 20 books in the series world so far? How many more do you plan to do and how many years will you keep releasing them?
♥☞ A: The sky is the limit. I set up the series world to be ongoing. And I work really, really, really hard to make each character and story be special and unique while still being a vital piece of the overall world puzzle. To me, each character is a living and breathing entity–they are real in my head. They have their own personalities, their own hang-ups and their own story waiting to be told. Do some of them overlap with other characters' stories? Yes. Just like in real life.
If you're the type of person who wants to wait to start a series until it's all done, this probably isn't the series for you as it will keep going so long as there are people out there who still want to read it. On the plus side, it means tons of books in it. <3
➩ Q: How do you keep the series and overall world fresh and from being boring and the same old same?
♥☞ A: I work really hard to infuse new life into the series world with every release. I never want a reader to think "I can just read that book later because it will be the same as XYZ". I want the reader to see the next book coming out and think "there goes my day because I'm not budging until I read what happens next."
And I LOVE to read non-fiction. I love history. I LOVE science. Basically, I love to learn new things and expand upon the knowledge I do have. This is always feeding my muse, making me think of new ways to sprinkle in a special flavor to each book or character arc. I have hundreds of reference books that surround me in my office (no joke, I've been collecting them for nearly 20 years and you'd think I was a dragon guarding treasure if you saw me with them) and I'm always signing up for new courses & classes, seminars, conferences, etc. I live close to the University of Mississippi so I have access to its resources as well. I'm always over at the campus bookstores buying texts and finding out what the latest info in multiple areas of study are. I interview people and reach out to experts in various areas when the need arises. I love documentaries and have been collecting them for 20 plus years as well. And I travel as much as possible to learn new areas and new things.
I take all of this and use it to breathe life into my stories (be it ops ones or other ones).
✎ ✎ My end goal is always to put out the best book I can. Thankfully, my reader base is super supportive. ✎ ✎
MORE FAQs!
The Immortal Ops® Series World has a number of series within it and is pretty big. I thought I'd take a moment to break it down a bit. The series within the world are the Immortal Ops®, Paranormal Security and Intelligence (PSI-Ops®), Immortal Outcasts®, Crimson Ops, Paranormal Security and Intelligence Ops Shadow Agents®, Paranormal Regulators.
Q: How, exactly, are they all connected?
A: They were all born from the Immortal Ops® series. The first four books launched the entire thing. Within them, the other spin-offs were/are established. For example, you meet Missy in Critical Intelligence (Immortal Ops® book two) and she's an agent with PSI-Ops Shadow Agent division. That means she's a solo op for the organization. And the Para-Regs were actually first set up in the Daughter of Darkness series world and they bleed over into this world.
Q: Wait a minute, Daughter of Darkness? I don't see that on my Ops list!
A: I don't include it because Daughter of Darkness is down from sale right now is being re-released next year (2019) for its 15th year anniversary.
Now I'll talk about each division or spin-off in the Immortal Ops® series world:
Immortal Ops®:
These men are the team that the government genetically engineered to be super soldiers and who the government deemed a success. They are a "black ops" branch of PSI-Ops® (Paranormal Security and Intelligence PSI-Ops).
Paranormal Security and Intelligence® (PSI-Ops®):
Think of this like the CIA /Interpol but with the ability to operate within the US as well. There are division headquarters throughout the world and there are many, many PSI-Ops. For the most part, PSI operatives are natural-born supernaturals but exceptions are made.
Shadow Agents: Paranormal Security and Intelligence Ops Shadow Agents®
These are the solo operatives in PSI. They do not belong to a team or unit. They do have a handler but other than that, they are on their own in situations.
Crimson Ops (aka Fang Gang):
These are the units/teams made up fully of vampire PSI operatives. (Don't worry, nobody sparkles. Okay, that's a lie. They once dumped glitter over one of the men while he was sleeping so he was sparkly for a few days as he picked glitter out of places he didn't even know he had.)
Paranormal Regulators (Para-Regs):
Think of them like the FBI + local law enforcement. They operate locally but can also operate nationwide if need be. It is not uncommon for them to work hand-in-hand with PSI.
Immortal Outcasts®:
These men were considered "failed and broken" attempts by the government when they were creating a team of super soldiers (Immortal Ops).
Q: Why do you have characters from one of the series within the world also appear in other series within the world?
A: Because they're all part of the same world and often the agencies work together.
Q: Where do I start? The world seems massive.
A: It is. It's a series world that had its first book release in April 2004 so it's had nearly 15 years to grow and grow and grow and grow LOL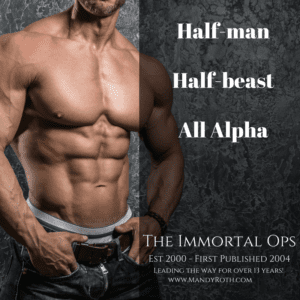 I highly suggest you read them in order of release for maximum enjoyment (you'll find that list at the bottom of this post). But, you can also start with Act of Mercy if you like.
Books in order of release and in their suggested reading order to date:
Immortal Ops (Immortal Ops® book 1)
Critical Intelligence (Immortal Ops® book 2)
Radar Deception (Immortal Ops® book 3)
Strategic Vulnerability (Immortal Ops® book 4)
Tactical Magik (Immortal Ops® book 5)
Act of Mercy (Paranormal and Security Intelligence® PSI-Ops® book 1)
Administrative Control (Immortal Ops book 6)
Act of Surrender (Paranormal and Security Intelligence® PSI-Ops® book 2)
Broken Communication (Immortal Outcasts® book 1)
Separation Zone (Immortal Ops® book 7)
Act of Submission (Paranormal and Security Intelligence® PSI-Ops® book 3)
Damage Report (Immortal Outcasts® book 2)
Act of Command (Paranormal and Security Intelligence® PSI-Ops® book 4)
Wolf's Surrender (Paranormal Security and Intelligence Ops Shadow Agents® book 1)
The Dragon Shifter's Duty (Paranormal Security and Intelligence Ops Shadow Agents® book 2)
Midnight Echoes (Immortal Ops: Crimson Ops book 1)
Isolated Maneuver (Immortal Outcasts book 3)
Expecting Darkness (Immortal Ops: Crimson Ops book 2)
Area of Influence (Immortal Ops® book 8)
Act of Passion (Paranormal and Security Intelligence® PSI-Ops® book 5)
Act of Brotherhood (Paranormal and Security Intelligence® PSI-Ops® book 6)
Healing the Wolf (Paranormal Security and Intelligence Ops Shadow Agents® book 3)
Wrecked Intel (Immortal Outcasts® book 4)
​Bound to Midnight (Immortal Ops: Crimson Ops book 3)
Out of the Dark (Paranormal Security and Intelligence Ops Shadow Agents® book 4)
and more to come!
Q: What inspired your acclaimed and award-winning series the Immortal Ops®?
A: Many things combined to create the perfect storm, if you will, for how I came up with the series idea well over a decade ago. Having been heavy into marketing and advertising and then suddenly finding myself needing to stay home to care for my boys, one of whom had additional needs, I was left craving a creative outlet.
I first tried to get my "fix" by playing video games after the boys were asleep at night. I found myself getting very into first-person-shooters and military games. The more I got into playing video games, the more I wanted to read about the actual history behind the games. I found myself talking with friends who had served our country. I would devour anything they wanted to offer, listening, completely swept up in it all. Each story shared a common theme—a strong sense of brotherhood.
This appealed to me, and in a relatively short period of time, I decided to do something about it. That impulse, combined with my love of history, science fiction, the paranormal, and technology, as well as my love of things that go bump in the night, really was a recipe for the Immortal Ops® Series to be born from my imagination. From a very early age, I've been fascinated with the supernatural, myths and legends. I have always read books that revolve around the supernatural. I cut my teeth on Stephen King, Clive Barker, Anne Rice, and the classics. Two books that made a huge impression on me were The Island of Dr. Moreau, and of course Dracula.
The more I found myself digging into the history of the military and of world wars, the more I kept getting this thought in the back of my brain, pushing me forward. Urging me to combine both loves—supernatural and history. I thought, what would happen if I took a team of men who were in the military, and they were a paramilitary group, a black ops type of thing, and I combined them with my love of the paranormal?
The scary part about the Ops series is that it was born from events that actually happened in history, just with a large fictional spin put on it. I asked myself, what if I took from history, from eugenics, which so many assume started in Nazi Germany, and threaded it into the very fabric of the military team? What if I were to take a page from history and the horrible cross-breeding attempts made by Ilya Ivanov and the Nazis to create super-soldiers, who were ape and human hybrids? And what if I were to weave in even more aspects, like cloning, additional genetic engineering, and so on? What if I went a step beyond and brought in other parts of history that revolve around attempts at making super-soldiers or controlling the minds of humans?
What would happen?
What would you be left with? How damaged would the men be? What kind of government would do this? What if I were to build off the history of it all, have it where America made super-soldiers behind the scenes, and then drew back and wanted to cut ties and stop everything when Nazi Germany rose and the backlash from that hit, but, in reality, they didn't stop? And with scientific advances, how would that work? What would it look like? The answer seemed simple to me. Take all these questions to what I felt was their logical conclusion and to also blend in what I love—werecreatures and vampires.
So the idea to have shape-shifting military men who were created by the government was born. And that was how I came up with The Immortal Ops® Series. I started writing in 2000: thoughts, ideas, very short stories, and then full novels and novellas. The Ops were among the first things I put together and it wasn't long after that I was published (early 2004). My then-editor asked me if I could write something that was third-person point of view, instead of first-person, which I had first been published in. Since I had the Ops already started and the series all mapped out, it was just a matter of getting it to work as a third-person book, rather than first. Honestly, I wasn't sure I could. I'd mapped the series originally to be first-person. It took some elbow grease, but in the end it worked and the first four books were published. Reader support for them has been amazing.
Sadly, I found I had to cut a lot to make the book fit with word count restrictions then, but I'm happy to report that I have the rights back, and the first four books are being re-released with their original content.
Q: When did you come up with the idea for the Shadow Agents?
A: From day one when creating the Immortal Ops®. But, the Shadow Agents were first mentioned in Critical Intelligence (first published in 2005). This is the book that you meet Roi and his mate Missy and she confesses to being a Shadow Agent with PSI-Ops®, another words, she's a solo operative within the organization. Also, Eadan Daly is with the Shadow Agents. He's Missy's handler and to avoid spoilers I'll leave it at that. Shadow Agents, the spin-off series started coming out on its own for purchase in 2016.
Q: When did you come up with the idea for the Immortal Outcasts®?
A: This was from day one as well with the Immortal Ops®. I began to lay the ground work from the start. I mentioned failed attempts at op creations prior to the Immortal Ops® being successful. The time for the "failed attempts" to have their day in the sun came later. In Administrative Control Jinx is giving more information regarding the Outcasts. Casey was the first to get his own book (Broken Communication) but he was first brought to the readers attention in Act of Surrender (PSI-Ops®) in Sept 2014.
Q: When will you write the Paranormal Regulators books?
A: Three of their books are already written. They will release soon. I actually wrote them years ago. Stamatis (who you meet in Midnight Echoes) was the first of the Regulators I wrote a full story for. But super fans might recall that the Paranormal Regulators actually appear in the very first book/series I ever published–Daughter of Darkness. Ken, Sharon and Rick are all Paranormal Regulators and Gwen works for the agency. So, if you think about it, a huge chunk of my series are related in some way or another. There are more of these gems hidden throughout other series. Can you find them all?

Q: Were you inspired by any other current author's work to write Immortal Ops®? 
A: No, as stated in the above section on what inspired me, there were a number of things, but no current fiction was a catalyst.
​Q: How much research do you put into your books?
A: I go out of my way to continually learn as much as I can about and to try and keep up with new advancements in various fields and technology as a whole. I take online courses and workshops to learn more about Molecular Techniques, Next Generation Sequencing, Genomic Technologies in Clinical Diagnostics, basics of molecular biology, and how DNA code works, Bacterial Genomes: Disease Outbreaks and Antimicrobial Resistance, how whole genome sequencing works and what it could mean for the future of healthcare, Forensic Psychology, various methods underpinning forensic science–from crime scene investigation to reporting evidential value within a case, and I am always adding to the list.
I live very close to Ole Miss (University of Mississippi), so I have amazingly easy access to great textbooks and information on what seems to be a never-ending list of subject matter. I'm a giant history buff, and I love to collect research books. It's my "thing." When we moved 800 miles, I gave away nearly 75% of my research library and still managed to have 2.5 tons of books that needed to be moved with us (Mr. Mandy and the Roth Boys still groan when they remember how many boxes of books they had to lug around).
Yes, writing full-time, being the sole income provider for the family, being "Mom", and taking courses/workshops, etc is all very time consuming and involves a level of commitment that often means I have for forgo sleep. But in the end when I hold a printed copy of one of my books and see the reader feedback come in about it, I know it was all worth it.