Mandy M. Roth Reading Challenge 2021 (1st Quarter)
If you're like me, you'll snatch up a great book deal when it's offered with the intention of reading it. But, life gets in the way, other books come out, and before you know it, the great deal is buried in your e-reader, never to see the light of day again. Well, how about we dust them off and put them to good use? Like winning some awesome goodies!
That's right, I'm issuing a Reading Challenge to all of you. The books on the challenge page have all been FREE at one point or another throughout the year (on either Amazon, Google Play, Apple Books, Kobo, Nook, or Bookbub).
It's time to pull them from the depths of your e-reader library and read them. Then, when you're done, be sure to post a review of that book on at least two of the following locations:
Amazon
Google Play
Apple Books
Nook
Kobo
Bookbub
Goodreads
Doesn't matter what combination of places you use. Also, if you post at more than two, you're entered more than once into the drawing for some awesome prizes!
Now, you'll need to fill out the form on the page for EACH book you've read and reviewed. And you're be entered for a chance to win with EACH book you submit reviews for.
Already read the book(s) and already posted your review(s), fantastic! Just submit your links via the form to be entered for a chance to win.
Bonus entries are awarded for audiobook reviews of the titles too!
This challenge will run until Feb 15th. Then it will close to submissions. I'll be drawing winners on March 3rd!
HERE ARE JUST A FEW OF THE PRIZES I'LL BE GIVING AWAY:
Tarot card decks
Cleansing kits (sage, etc.)
Witch reference books to help build your witchy library
Signed print books from me
Handbags
and more!
So, readers, are you up for the challenge?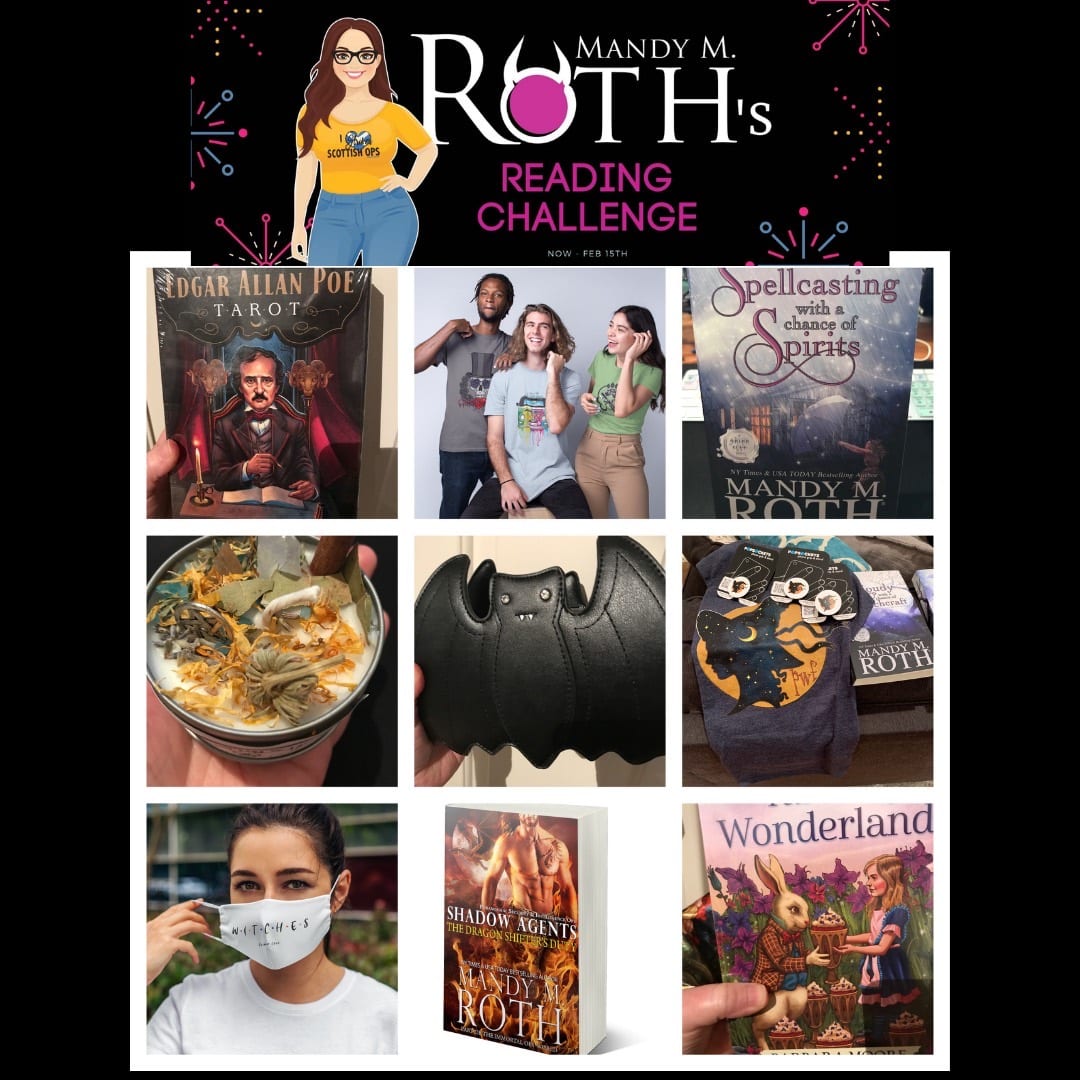 Here is the link to the challenge page. The books are listed there.
https://mandyroth.com/reading-challenge/

This challenge will run until Feb 15th. Then it will close to submissions. Winners will be chosen at random on March 3rd. Winners will be notified via email and have 72 hours to claim their prize.
Guidelines for any and all contests sponsored by Raven Happy Hour, LLC and/or Mandy M. Roth and her team.
No purchase necessary. Purchase does not enhance the chance of winning.
Void where prohibited.
Unless otherwise stated, winners will be notified privately (ie. email, private message, etc). Raven Happy Hour, LLC is within its right to publicly list winner's names.
Contest is governed by the laws of the United States of America, Mississippi. Contest participants agree that any and all disputes that cannot be resolved between the parties and causes of action arising out of or connected to this Contest shall be resolved individually, without resort to a class action suit or legal action exclusively before a court located in Mississippi having jurisdiction.
All entries submitted are subject to the Privacy Policy stated on www.MandyRoth.com.
To read said Privacy Policy, click here.
The Contest is sponsored by Raven Happy Hour, LLC
By entering, you agree to hold harmless Raven Happy Hour, LLC and its affiliates, subsidiaries, assigns, employees, officers, and or directors from any liability, illness, death, loss, injury, claim, damage, or litigation that may arise, directly or indirectly, whether caused by negligence or not.
Raven Happy Hour, LLC reserves the right to terminate, modify, cancel, or suspend the Contest or giveaway for any reason.
Many will enter. Few will win.