Do you LOVE Paranormal Shifter Military Special Ops Romance?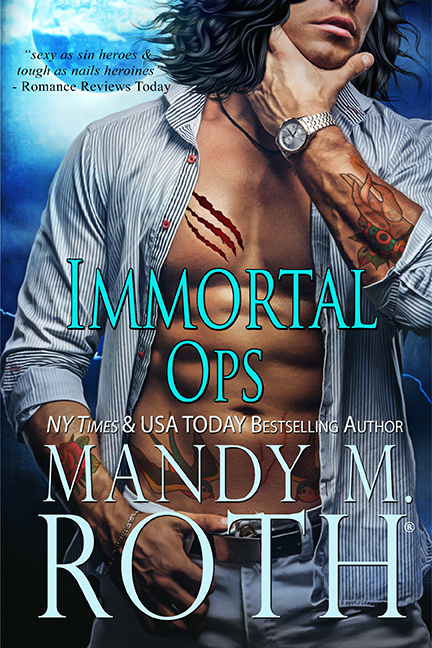 As summer comes to a close and the kids return to school in our 'new normal,' books are a great way to cozy-up and unwind. Stress and anxiety can get the better of us even when we're excited about something good. Life has been upended all across the world, so people are looking for outlets, exploring new hobbies, or rediscovering old ones. I figured it would be the perfect time to introduce (or reintroduce) you to some of my series, such as Immortal Ops! If you're not familiar with this story world, you can find the suggested reading order, which incorporates all the spin-offs: https://mandyroth.com/the-immortal-ops-series-world/ starting with the first book in the series. If you like paranormal shifter military special ops with a side dose of alpha male romance, then read on…
Immortal Ops
Paranormal Shifter Military Special Ops Romance
Immortal Ops Team Captain Lukian Vlakhusha is having issues with his newest target, Peren Matthews.
His higher-ups want her eliminated. He simply wants her.
The alpha side of him demands he claim her–that is if she'll have him. After all, he's what she fears most–a wolf shifter. But there is more to Peren than even she's aware of, and the enemy is closer than anyone imagined.
What are readers saying about this shifter military special ops romance series?
"Their interaction is just amazing, so well written; it crosses the line to reality! Paranormal fans will be transported into a world you may not want to come back from!" -Pam Louis
"Their hijinks will make you laugh, their powers will amaze you, and their sexual appetites will heat things up." -Cheri
Clearly, RothHeads love these action-packed shifter military special ops stories. Thanks for stopping by the blog! I'm going to share even more fan favorites to kick off fall with more books for your TBR pile. So get ready for more shifter military special ops than you can shake a stick at and next up is Roi Majors, wolf-shifter and second in command of the I-Ops!
Mandy M. Roth
NY Times & USA Today Bestselling Author of the Immortal Ops Series! Paranormal Shifter Military Special Ops Romance