by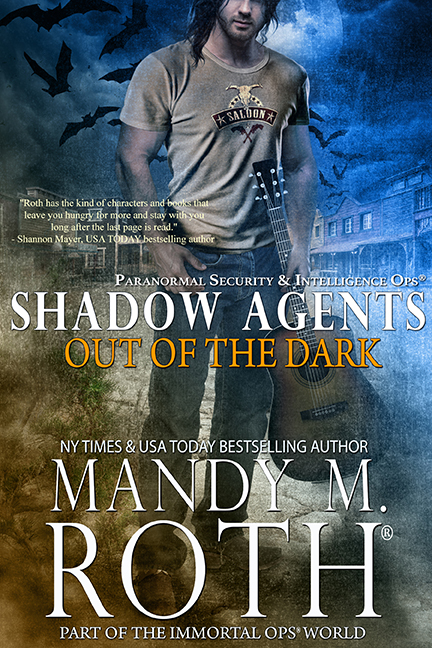 Out of the Dark
Shadow Agents: Paranormal Security and Intelligence Ops Shadow Agents® Series, #4
Operative: Wheeler Summerbee
He's solid as a rock...
Former Immortal Ops Agent Wheeler Summersbee has spent most of his life on the run from his own government. When he'd agreed to be a living test subject in their quest to genetically engineer the perfect super-soldiers he never dreamed he'd come out the other side of the testing a gargoyle-vampire hybrid who craved blood and had a serious allergy to sunlight. But that's what happened. So, when he finds himself trapped in what feels like eternal darkness, encased in stone, with the prospect of never being free again, he abandons all hope. That is until he hears, the melodic voice of a mysterious woman he's sure is a goddess. Could it be she's his someone special? His perfect match? His mate?
She's small but her will is mighty...
Samantha has finally landed her dream job and is putting the finishing touches on an upcoming gallery showing when everything that can go wrong does. There is a delivery mix-up which leaves her with a very lifelike, not to mention a very life-sized, stone statue of a hunky dude whose jeans aren't quite buttoned all the way and whose rippling six-pack are on display for all the world to see. And while she has to hand it to the artist for sculpting the most delicious-looking man she's ever seen, the giant statue is not the one she needs to make the gallery showing a success. When a bunch of heavily armed bad guys storm into the gallery, threatening her and the statue of all things, she learns there is a whole lot more to the art piece than just rock-hard abs.
Fate's special delivery has left these two potential lovebirds fighting for their lives in a race against The Corporation. Can they outwit and outmuscle the bad guys or is their budding new romance at risk of never reaching its final destination?
Note: Be sure to read Wrecked Intel and Bound to Midnight before reading this one. 
ASIN: B07YK9RHLF