A Paranormal Women's Fiction Romance
by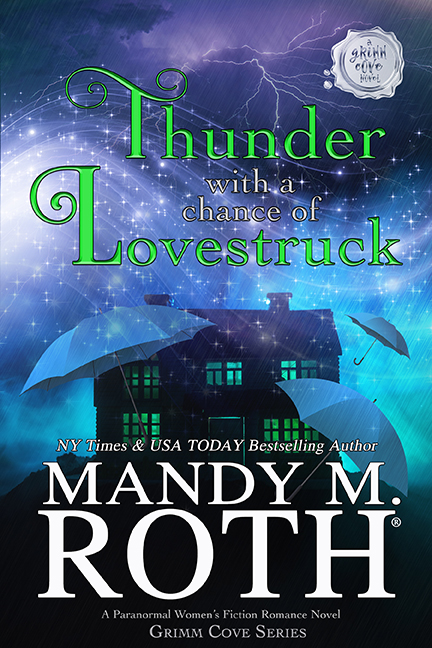 Thunder with a Chance of Lovestruck
When Detective Drest Bright meets his newest charge, sparks literally fly. There is no denying the instant attraction he feels for Rachael Frankenstein. But she's off-limits, and he knows as much. Her family has been a thorn in the side of the Nightshade Fae Hunters for over a hundred years, and they aren't about to let him run off into the sunset with her without a fight. But if it's a fight they want, it's a fight they'll get because this lovestruck Fae will do anything he can to be with his mate again.
| | | |
| --- | --- | --- |
| Print Pages | Hours to Read | Total Words |
| 552 | 8-9 Hours | 96K |
For CW see below.
If you love Frankenstein, Dracula, Gilmore Girls, and Supernatural, you're going to love the Grimm Cove series!
Reviews:
Theresa

on

Amazon UK

wrote:
5 Stars--"Romance, villainy, death, monsters, magic and sex. It's all in here and given the gap between books it helps centre us right into the world of Grimm Cove and the interconnected lives of the powerful women destined to live there."
Jen L

on

Amazon

wrote:
5 Stars--"Great writing, great story, and great characters what more could you need"
DMA

on

GOODREADS

wrote:
5 Stars--"Drest and Rachel's story broke my heart and then stitched it back together (not in a Frankinstein way of course...that's not allowed)."
Fate brings Detective Drest Bright and Rachael Frankenstein together in 'Thunder with a Chance of Lovestruck' - but will their families' long-standing feud keep them apart?
Research info link:
Spotify Playlist for the book: click here
CW: contains creepy uncle who wants more from his adult niece than is appropriate (note: uncle is NOT the hero of the book), gore, violence, and adult themes.