by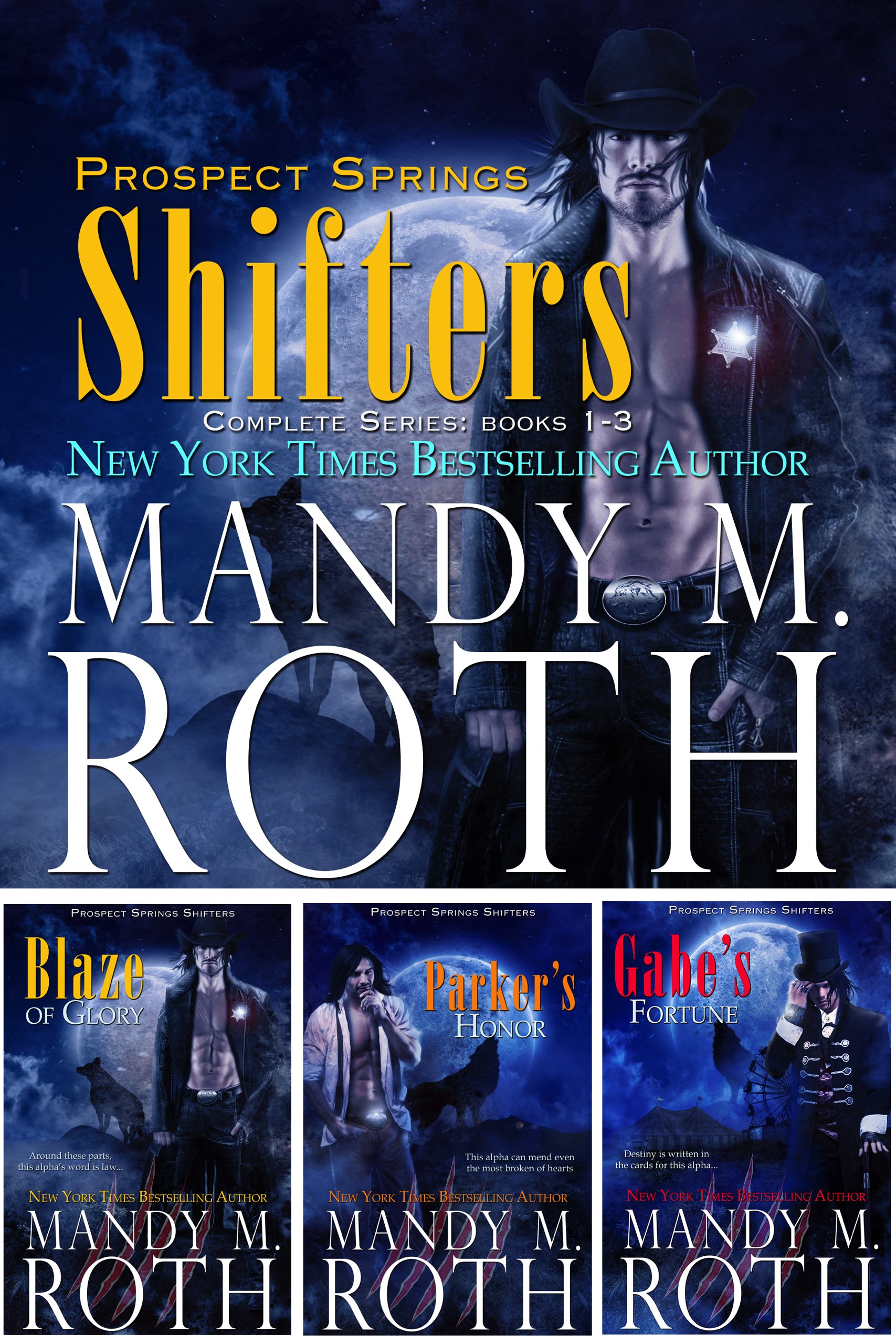 Prospect Springs Shifters Complete Series: Books 1-3
Contains:
Blaze of Glory
Parker's Honor
Gabe's Fortune
Blaze of Glory: Book One
Sheriff Jonathan MacSweeny is in charge of keeping the peace in Prospect Springs. Frontier living isn't what it used to be. It's hard to survive in the New Old West and it's even harder when your area doesn't exactly embrace supernaturals—and you howl at the moon. That being said, he's good at his job and has a reputation with the ladies. When he learns his childhood sweetheart is to be married off to the town sleazebag, he goes in guns blazing to see to it she's his. Problem is, Molly isn't the same girl he remembers from ten years prior. Now she's a gun-toting, foul-mouthed, vixen with a badge of her own.
Special Marshal Molly Cogan never planned to set foot back in Prospect Springs. When her friend gets the harebrained idea to steal her identity in an attempt to protect her from the bounty the outlaws have on her head, Molly finds herself standing right smack dab in the middle of chaos—or home in her case. It isn't long before Jonathan is there, flashing that famous MacSweeny boy smile and tempting her in ways she wasn't prepared for. This heart-hardened Marshal has her work cut out for her if she plans to face her past fears and her past sweetheart.
Parker's Honor: Book Two
Sometimes honor comes with a price. Sometimes it comes with love…
Doctor Parker MacSweeny treats the folks of Prospect Springs. He's well respected, has a reputation as being a fine doctor and tends to anyone who crosses his threshold—even if they aren't in good standing with the law. He's lived an adventurous life, bedding lots of ladies, never thinking of settling down with just one. He's been content with his practice and going several towns over to take advantage of the brothels there. He doesn't like mixing business and pleasure.
When a woman comes to town masquerading as someone from Parker's past, everything changes. She's not who she first claims to be—hell, she's not even who she says she is next. The beautiful, strong, amazingly talented woman gets his thoughts all jumbled and his groin hard. She's more than she appears to be and he damn well plans on uncovering all her secrets and then getting her to accept his claim. One proves easier than the other.
Gabe's Fortune: Book Three
Shapeshifter Gabriel MacSweeny loves a challenge. When he's offered the chance to buy a traveling carnival, he knows it's a business decision he can't pass up. Doesn't hurt that the fortune teller is a beautiful, mysterious woman who has curves in all the right places and just so happens to be his mate.