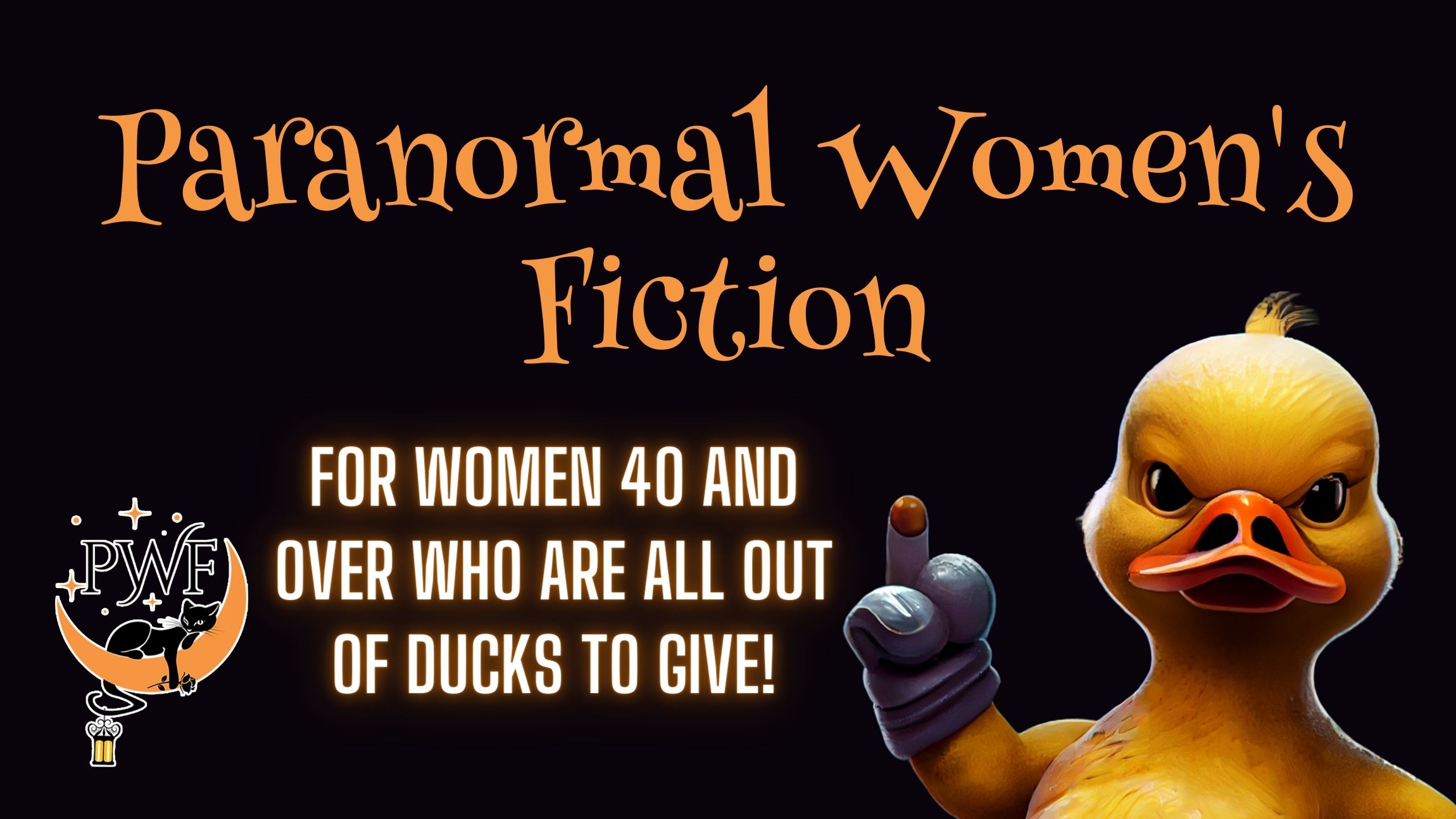 Paranormal Women's Fiction
Fiction for women 40 and over who are all out of ducks to give!
As a woman over the age of 40, I can tell you with all certainty that the older I get, the less ducks I have to give. This is true for a lot of middle-aged women. I know, at least for me, I like some of the books I'm reading to reflect that. That is where paranormal women's fiction comes in.
Growing older doesn't mean we need to accept and settle for books that cut our age group out completely or, worse yet, turn us all into old hags and villains in the story. We've more than earned a space that has been carved out just for us and the real-life issues we're going through. That is where Paranormal Women's Fiction (PWF) comes in! It's the perfect blending of paranormal (paranormal romance even) with women's fiction.
Let's do a deeper dive into the issues women are dealing with in midlife.
What is Paranormal Women's Fiction?
---
Where to start on your Paranormal Women's Fiction journey!
Cloudy with a Chance of Witchcraft by Mandy M. Roth
Visit the town of Grimm Cove in Mandy M. Roth's paranormal women's fiction series (Grimm Cove). It starts off with Cloudy with a Chance of Witchcraft. Join Poppy as she deals with an empty nest, a divorce, inheriting a hunted house, a crazy succu-witch, and rekindling a once-thought-lost romance with a man who just happens to be a wolf-shifter.
---
Top 13 Paranormal Women's Fiction Books (Fab13 PWF):
Looking for more fantastic paranormal women's fiction reads? Check out books by the Fab13. With amazing series like Grimm Cove, Forty Proof, Premonition Pointe, Glimmer Lake, Leveling Up, Order of Magic, Betwixt & Between, Good to the Last Death, First Fangs Club, Marina at Midlife, From the Ashes, Midlife Mulligans, Crows Feet Coven you're sure to find something you love!
Let it All Burn (From the Ashes) Denise Grover Swank
Cloudy with a Chance of Witchcraft (Grimm Cove) by Mandy M. Roth
Magical Midlife Meeting (Leveling Up) by K.F. Breene
Second Chance Magic (Order of Magic) by Michelle M. Pillow
Suddenly Psychic (Glimmer Lake) by Elizabeth Hunter
Midlife Bounty Hunter (Forty Proof) by Shannon Mayer
Witching for Grace (Premonition Pointe) by Deanna Chase
It's a Wonderful Midlife Crisis (Good to the Last Death) by Robyn Peterman
Wrong Side of Forty (Marina at Midlife) by Jana Deleon
Let it All Burn (From the Ashes) Denise Grover Swank
Betwixt (Betwixt & Between) by Darynda Jones
Halfway There (Midlife Mulligans) by Eve Langlais
Writing Wrongs (Crow's Feet Coven) by Christine Gael
---
Cloudy with a Chance of Witchcraft (Grimm Cove) by Mandy M. Roth
Sucks to Be Me (First Fangs Club) by Kristen Painter
Magical Midlife Meeting (Leveling Up) by K.F. Breene
Second Chance Magic (Order of Magic) by Michelle M. Pillow
Suddenly Psychic (Glimmer Lake) by Elizabeth Hunter
Midlife Bounty Hunter (Forty Proof) by Shannon Mayer
Witching for Grace (Premonition Pointe) by Deanna Chase
It's a Wonderful Midlife Crisis (Good to the Last Death) by Robyn Peterman
Wrong Side of Forty (Marina at Midlife) by Jana Deleon
Let it All Burn (From the Ashes) Denise Grover Swank
Betwixt (Betwixt & Between) by Darynda Jones
Halfway There (Midlife Mulligans) by Eve Langlais
Writing Wrongs (Crow's Feet Coven) by Christine Gael