by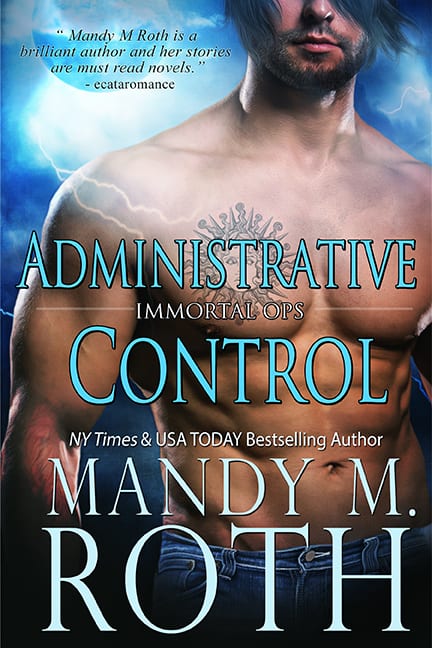 Administrative Control
Immortal Ops® Series, #6
No one knows just how powerful Colonel Asher Brooks is. It's a secret he's fond of keeping. As point person for the Immortal Ops, he has seen just about everything the supernatural community has to offer. That is until he arrives on the docks in Seattle to find a mess his men didn't make. Something big is going down there and it means business. His concern is for Jinx, a leggy redheaded succubus who calls the area home. He's spent centuries denying what he knows to be true, thinking he's keeping his woman safe and that it's for the best.
When Jinx calls to tell him she has information for him, he worries the woman who drives him mad with lust might be in danger. He'll do anything to protect her, even if that means claiming her for his own, whether she's up for being claimed or not.
| | | |
| --- | --- | --- |
| Print Pages | Hours to Read | Total Words |
| 100 | 2-3 Hours | 20K |
ASIN: B00JZWDCCC
Reviews:
Amazon Review

wrote:
★★★★★ 5 Stars--"Beyond intriguing, this one was difficult to put down. From the action, mystery and sexual tension, Mandy's very vivid descriptions were totally captivating."
Amazon Review

wrote:
★★★★★ 5 Stars-- "Administrative Control was sexy, fun, and action filled."
Amazon Review

wrote:
★★★★★ 5 Stars--"Yet another outstanding book in the I-Ops series. Lots of action, strong women and sexy alpha shifters."
Experience the passion and danger of the supernatural world with Administrative Control, book six in the bestselling Immortal Ops series. Follow Colonel Asher Brooks and Jinx on their intense journey of love and survival.
CW: contains adult language, extreme violence, mature content, and graphic sex.