by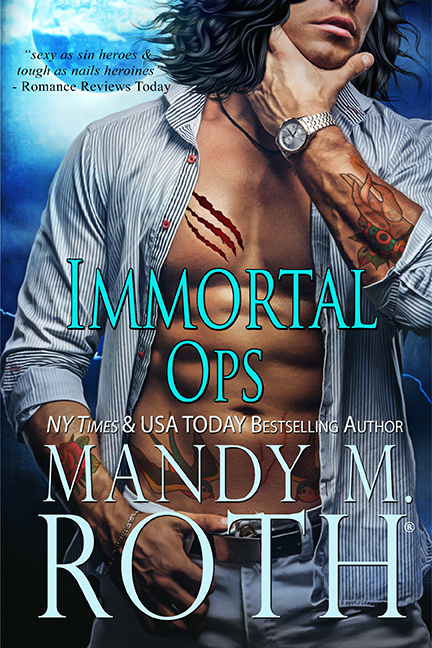 Immortal Ops
Immortal Ops® Series, #1
ASIN: B01L9XZSRQ
★★★★★ 5 Stars–"Heart pounding, hot, great storytelling"
★★★★★ 5 Stars–"Ms. Roth just has a way with words that give forth emotions within the reader whether it be fear or love."
★★★★★ 5 Stars–"Great characters with strong alpha males but equally strong and capable women."
★★★★★ 5 Stars–"Highly recommend if you want to get immersed in a world that will have you turning the pages from beginning to end."
Immortal Ops Team Captain Lukian Vlakhusha is having issues with his newest target, Peren Matthews. His higher-ups want her eliminated. He simply wants her. The alpha side of him demands he claim her–that is, if she'll have him. After all, he's what she fears most–a wolf shifter. But there is more to Peren than even she's aware of and the enemy is closer than anyone imagined.
| | | |
| --- | --- | --- |
| Print Pages | Hours to Read | Total Words |
| 260 | 4-5 Hours | 45K |
Audiobook Options
Print Book Options
Topics: immortal ops, paranormal security and intelligence, shadow agents, crimson ops, PSI-Ops, I-Ops, Action & Adventure Romance Fiction, alpha hero, alpha male, Army, award winning romance, Brotherhood, cat shifter, comedy, Crime, Demon, Devil, DNA manipulation, Doctor, Dominant male, emotional romance, Espionage, fae, Faeries, fantasy, fantasy romance, fated mates, first in series, friendship, genetic engineering, HEA, steamy, sexy, sizzling, Humorous, instant love, magic, mythical creatures, myths, navy, ny times bestseller, usa today, panther, paranormal and urban, paranormal elements, power, romance ebook, romance series, book series, science fiction, scientist, experiments, laboratory, legends, conspiracy, species, breeds, medical, mystery, military, thriller, suspense, Scottish, highlander, cowboy, warrior, spies, special ops, special forces, siren, shifter, cat shifter, wolf shifter, werewolf, were creatures, werecat, captain, war, evil, empire, corporation, animal, soulmates, fang gang, vampires, hybrid, sci-fi, Science Fiction & Fantasy, Thriller & Suspense, Wizards & Witches, Genetic Engineering, werewolf romance, bad boy hero, humorous romance, romantic suspense, action and adventure, shapeshifter, free, first in series, series starter, ancient, king, and royalty.
Perfect for fans of K.F. Breene, Shannon Mayer, Laurann Dohner, Denise Grover Swank, Darynda Jones, Alisa Woods, Elizabeth Hunter, Christine Feehan, Rebecca Zanetti, Nalini Singh, Gena Showalter, Genevieve Jack, Lora Leigh, Patricia Briggs, and Laurell K. Hamilton.