by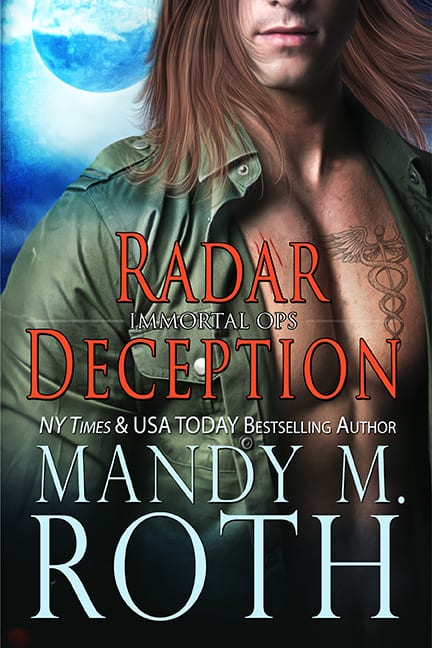 Radar Deception
Immortal Ops® Series, #3
Dr. Thaddeus Green survived a werepanther attack long ago, leaving him immortal and a member of the I-Ops team. He's dedicated his life to genetics and to serving his country. After his mutated DNA led to the death of his loved one, he vowed to never let anyone close to his heart again. Try as he might, Green is unable to stop the mystical pull to the tall, leggy blonde with a sharp tongue and an even worse bite. Thinking Melanie is suffering from mating withdrawal, Green is prepared to do what he must to assure her survival, even if it means claiming her for himself, regardless of his need to protect his heart. Little does Green know that fate has been preparing him for Melanie Daly all his unnaturally long life.
When ghosts from the past resurface, in ways he never dreamt possible, the normally mild-mannered scientist finds himself drawing on his inner beast and rage to assure his mate and their future are protected. But even Green can't fight all of Melanie's battles for her. Some she has no choice but to face on her own. Can their bond stand the test of time?
ASIN: B01L9XZSOO
| | | |
| --- | --- | --- |
| Print Pages | Hours to Read | Total Words |
| 366 | 6-7 Hours | 62K |
Audiobook Options
Print Book Options
CW: the Immortal Ops series world contains graphic sex, language, and violence. These are for adults only and are not for sensitive readers.